For my niece, who is going to be 18 months old at Christmas:
Baby's ABC
by Anita Shevett, a small board book (as in this image is nearly actual size). We went through TWO copies of this one when my kids were toddlers, due to the edges being so badly chewed by one of the kids (I'm not saying who). Photos of babies and real items, and both of the girls found it fascinating once upon a time.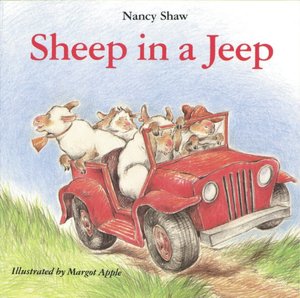 Sheep in a Jeep
by Nancy Shaw - the board book edition, which comes with instructions on making your own sheep adventure inside the back cover. We had the regular edition of this one, but my niece will fare better with the board book, given her age. (My younger daughter was three when this book was first published, and already careful with page turns and such.)
The Very Hungry Caterpillar
by Eric Carle - again in board book format - which is incredibly brilliant for teaching counting (to five) and the days of the week, in addition to explaining that caterpillars become butterflies. My kids always added a loud "POP!" on the page turn to the butterfly, echoing the "pop!" that occurs at the start of the book when the caterpillar first emerges from the egg on the leaf. I wonder if my niece will do the same . . .
I bought all three books at my "local" independent children's book store, the marvelous
Children's Book World
in Haverford, PA, on "Small Business Saturday" - a shopping idea that I really like and support, although the news articles seem to indicate that it hasn't exactly caught on. Yet.