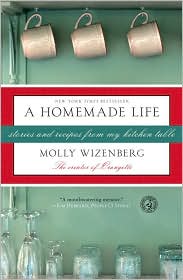 Over the past six weeks, I've been dipping into the various stories and recipes inside
A Homemade Life: stories and recipes from my kitchen table
by Molly Wizenberg, and today I finally reached the end of the book. Which is not to say that I've put the book away for good, because I still intend to dip into the book for purposes of actually trying some of the recipes it contains.
This book is a truly interesting hybrid - it's part memoir, part cookbook. Wizenberg, the blogger behind
Orangette
, shares personal stories about growing up, her father's death, her time in Paris, and meeting and marrying her husband, and each story comes with one or more recipes that are somehow related to the story she's just told. There are extremely simple recipes - such as "Bread and Chocolate" or "Radishes and Butter with Fleur de Sel" - and rather more involved ones - such as "Doron's Meatballs with Pine Nuts, Cilantro, and Golden Raisins" and "Vanilla Bean Buttermilk Cake with Glazed Oranges and Crème Fraiche", although nothing in the book sounds extraordinarily tricky. The stories enhance the recipes and vice-versa, and if you go through the entire book, you find a variety of courses, from soups and salads to main courses, side dishes, and desserts.
More wistful and not as hilarious as
Julie & Julia
by Julie Powell, but with just as compelling an authorial voice, the memoir parts involving food really tugged at me. Reading about her father's illness and death was sad, but it made reading about her romance and marriage that much sweeter. Truly a good read even if you don't plan on cooking. But if you are, as I am, interested in food and in homecooking, then this book really, truly is for you. The recipes are well-written and the variety of items in the book is extremely promising.
I am especially looking forward to making "The Winning Hearts and Minds Cake" and the "Caramelized Cauliflower with Salsa Verde", although there are at least another ten or so recipes that I definitely plan on trying out, including ratatouille and chana masala. Even more, I'm looking forward to Wizenberg's second book, tentatively entitled
Delancey
, due out (most likely) in early 2013.