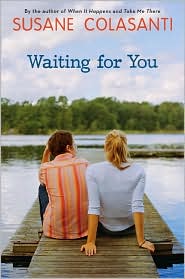 The main character in
Waiting for You
is Marisa, a high school sophomore with an anxiety disorder who spent much of freshman year struggling with depression. With counseling (and an excellent summer camp experience) behind her and sophomore year ahead, she's hoping for better days - and better days might just include a boyfriend. Of course, the guy she likes best is Derek, who already has a girlfriend at the start of the book.
Marisa has one terrific female friend, Sterling, who stuck by her through freshman year, and she's paired with her childhood friend, Nash, in chemistry class and starts to reconnect with him, only to find out that he's interested in being more than friends with her. Awkward. But at least she has a stable, happy family at home - or does she?
I enjoyed the book - maybe not quite as much as I enjoyed
When It Happens
, but I'm pretty sure that's because parts of this book go to a slightly darker place, but it's very good. And from a writerly perspective, one of the things I took from the book is the wonderful way in which Colasanti moves forward in time from chapter to chapter - sometimes days, sometimes weeks, moving the book through the school year.