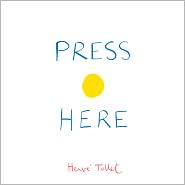 A dot is such a simple thing. A simple thing that turns into something magically fun in this marvelous new book by Hervé Tullet.
Tullet combines simple, colorful dots with simple, clear directions for a book bound to lead to interactive fun. You can get a sense of what happens inside this book by watching its book trailer, since my telling you what it involves (a) might be unclear and (b) at any rate can't be clearer than an actual demo (accompanied by jazz music and featuring adorable kids):
Things to love about this book:
(not all of which are the usual sorts of things I talk about in reviews)
1. Its size. It is square (8-3/4" x 8-3/4").
2. Its cover. Its cover is made of good stiff cardboard of the sort used to make board books.
3. Its pages. They are not board-book pages, but they are a thick, heavy, glossy paper that feels sturdy enough to stand up to toddlers - the target market for this book.
4. Its text. It's not poetic or in any way convoluted; it's a series of simple instructions, with a bit of commentary. E.g., "READY?" (and on the next page) "
PRESS HERE
AND TURN THE PAGE."
5. Its suitableness for its target age range. This is a book that is targeted for kids who are learning how to follow directions. They are learning their manners and how to put their clothes on and how to line up for things at nursery school and such, and this book is (pardon the pun) spot on for them.
6. Its whimsy. The directions on one page "tilt the page to the left . . . just to see what happens"; the image on the next page shows the dots have bunched themselves up along the left edge of the page. Tullet never claims that there's anything magical going on, yet through the playfulness of the text (and the interaction of the reader), it
feels
like there's a little something magical happening.
I was pressing, rubbing, shaking and clapping along as I read the book, which I finished with a huge smile on my face - and I'm almost 47, yo, so just imagine how much
more
fun this book is for an actual child. Highly recommended for anyone with someone in the 2-7 age range around who wants to have some fun.
My thanks to the good folks at Chronicle Books for sending a review copy my way.