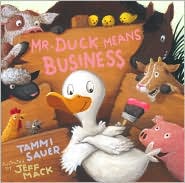 Just the other day, the mailman delivered a copy of
Mr Duck Means Business
, the latest picture book release by my friend Tammi Sauer, wonderfully well-illustrated by Jeff Mack. And I figured I should shake a tail feather and post about this book while you can still find it in local stores - especially since I thought of a something to say about it as relates to real life. Well, to
my
real life, and hey, who knew that Tammi was writing a picture book about me? ;)
Mr Duck, you see, likes his tranquil life. He likes his quiet and alone time so much that he has put up a huge number of forbidding signs to warn others to leave him and his pond in peace. Just like I, crankypants author that I am, like my peace and quiet and alone time. I have not put up signs about it to keep my family and friends at bay, although I have most certainly considered it at times.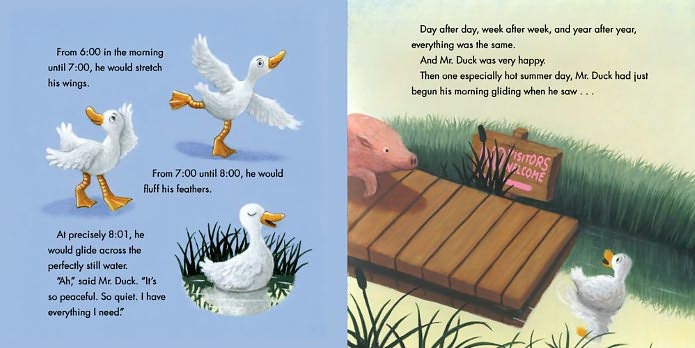 The thing is that the pig you see to the right there isn't the only animal to show up. Others turn up too, and pretty soon, Mr Duck has a pond party on his, er, wings and is sidelined watching the mayhem that ensues: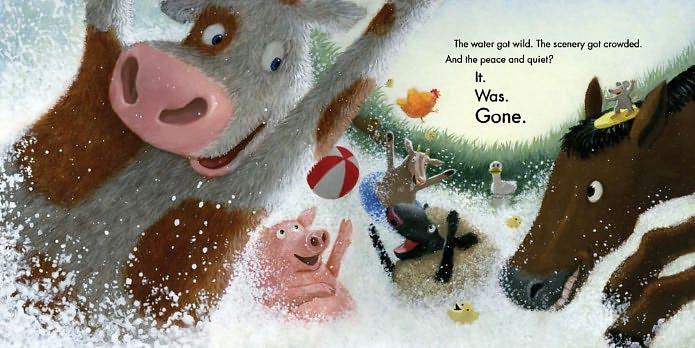 I know how Mr Duck feels, and I rather suspect that most of the other writers and artists who read this blog do as well: Alone time where you are on your own to think and get work done is important, and it's worth defending, too. Still, it's important to keep at least one foot in the real world - a lesson that Mr Duck figures out on his own during the course of the book. It's all about balance.
Now, I'm nearly certain that Tammi did not have me in mind as the model for Mr Duck, but the truth is that she
could
have. And I'm equally certain that you can read and enjoy
Mr Duck Means Business
without drawing the same comparison I've just drawn - especially since when I first read the book, I giggled and enjoyed it just fine without the analytic overlay. But I do hope you'll give it a gander. (Sorry - couldn't resist. Ducks down to escape any thrown objects. And yes - I slay myself. Sad, but true.)