I recently read four inter-related novels by Eloisa James, which are, in turn, slightly related to a later series that I'll get to later this week. (I actually read the later four first, only to find my introduction to a key character here - more on that as we go.)
Duchess in Love
is the first in the series. Our main character is Gina (short for Ambrogina) was married by proxy when she was underage - as in, eleven or so - to Camden Serrard, now the Duke of Girton - then 18 - who (largely to spite his father) fled through a window and went abroad immediately after the ceremony. Now it's years later, his father's long dead, and the Duke has never bothered to return to England; instead, he's been crafting marble statues in Greece based on his (ex)mistress.
Cam returns to England in order to secure an annulment. You see, Gina's found a nice marquess, Sebastian Bonnington, whom she's going to marry, once Cam annuls their obviously unconsummated marriage. The thing is, the solicitor who represents Cam, decides to stall, hoping that Cam will decide to stay married and stay in England. We are introduced as well to Gina's friend, Esme, who has been separated from her husband for years. She has a rather infamous reputation, although she and her husband, Miles, are actually somewhat friendly. Sebastian Bonnington does not approve of Esme, and sparks fly there as well as between the Duke and Duchess of Girton.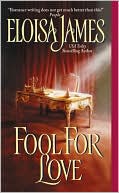 Fool for Love
tells us more about Esme, and about her nephew, Simon Darby, who is her husband's heir - unless Esme's baby turns out to be a boy, that is. Sure that Esme is faking her pregnancy, Simon rushes to the countryside with his two extremely young sisters in tow, where he makes the acquaintance of Lady Henrietta Maclellan, a local girl with a passion for children - and an inability to have any of her own. While under the influence one night, Henrietta writes herself a love letter, pretending it's from Simon; under the influence of her friends - and wanting very much to be mother to Simon's sisters as well as being Simon's wife - she allows that letter to be read out in public, resulting in a hasty marriage of necessity.
The Esme/Sebastian relationship is quite delightfully convoluted. As it turns out, Esme is not faking her pregnancy, but Sebastian is faking his trip to the Continent: You see, he's acting as Esme's gardener, a role he maintains into the next book in the series.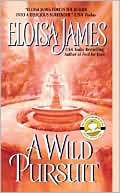 A Wild Pursuit
matches Stephen Fairfax-Lacey (who we meet briefly in the first book - he's Cam's first cousin) with, well, too many women to count, really, but only one that matters: Lady Beatrix Lennox, a disgraced young woman who was found tupping someone during her first season. Lady Beatrix comes to Esme's house as the protegé of Esme's Aunt Arabella, who is there to attend the birth of Esme's child. Also present is Esme's friend Helene, the Countess Godwin, who is estranged from her husband.
This book finally resolves Esme and Sebastian's story line, with a wonderful guest appearance by Sebastian's dragon of a mother and a rather unwelcome appearance by Esme's own
dragon
mother. It also includes rather cunning use of poetry readings and some lovely poems, including some erotic Elizabethan poems I hadn't seen before, and now I've got a new poet to track down. Win-win!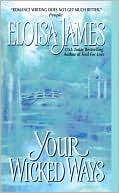 Finally,
Your Wicked Ways
gives Helene, Countess Godwin, her own happy ending. She fell in love and eloped with Rees Holland, Earl of Godwin, at least a decade ago, but after only a year or so of marriage, he threw her out of the house and brought "fast" women in to stay - Russian dancers and, more recently, his opera singer mistress. The thing is, he won't grant Helene a divorce, and she really wants a child. So she decides to have one, whether he lets her out of the marriage or no. And that is how we first meet Garret Langham, the Earl of Mayne, who weaves his way through the Essex Sisters quartet, and his sister, Lady Griselda Willoughby: Mayne is a potential father for Helene's child.
Of course, Esme ensures that Rees is apprised of the situation, so he throws his, er, hat into the paternity ring, with delightful results for all - including for his brother Tom, a vicar. Well, that's not exactly true. The poor Earl of Mayne has another few years (and four books to go!) until he reaches his own happy ending. But those Essex Sisters books are quite good fun - more on them another day.