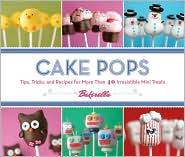 Tomorrow, I'll be posting a review of the cookbook, CAKE POPS, over at
Guys Lit Wire
. As part of my review, I figured I ought to, y'know,
make
something from the book, and so it came to pass that I found myself making heart-shaped cake pops for Valentine's Day.
This is proving to be (a) the most expensive book review blog post ever (despite having gotten the book for free from the publisher, Chronicle Books); (b) time-consuming but strangely rewarding and (c) dangerous for my waistline.
Expenses:
Cake mix
Tub of frosting
Several bags of candy coating bits
Lollipop sticks
Clear treat bags
Twist ties for treat bags (sold separately - wtf?)
Set of edible markers (the ink, that is - I do not believe the entire marker is edible)
Piece of styrofoam (used as a drying stand)
Total out-of-pockets for this project is around $30. Some of the stuff - like the extra treat bags & ties and the edible markers and styrofoam - is reusable. The rest is not.
Time:
Turns out that when making cake pops, you first make a cake, cool it, then crumble it up, then blend it with frosting. I baked the cake yesterday, crumbled and blended it this morning, then made the initial batch of cake balls, which had to go in the fridge for a few hours. Then I mashed the chilled cake balls inside a heart-shaped cookie cutter, then froze the resulting hearts, then melted the first color of candy coating and made a batch of pink-coated hearts. Once they are all the way dry, I will write stuff on them in edible marker so they will look like conversation hearts.
The cake mixed with icing tastes like really moist cake. A cake ball (without any coating) likewise tastes like slightly soggy cake. A cake pop
with
its candy coating tastes roughly like heaven on earth. I do not know WHY this is so, just that it is.
On tap for later:
1. make more hearts
2. coat additional heart-pops in other colors
3. write stuff on dried hearts
4. wrap individual pops up in little baggies so my kids can hand them out
5. photographs along the way
6. finish writing blog post
Despite all the mess and time and money, I find the creation of these little bon-bons-on-a-stick to be rather satisfying. I feel something like an artist, which is not a usual sort of feeling for me!