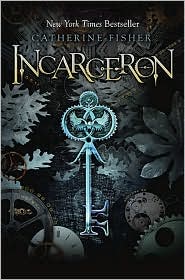 I'm certain you are all nearly sick to death of hearing about M and all her reading. Allow me to tell you why it is that you do not hear more about S's reading habits: it's because she gave up reading for fun at roughly the same time as she commenced high school, breaking her self-imposed reading ban only for the end of the
Twilight
series, for
The Host
and quite possibly for one other (non Stephenie Meyer) book as well. Heck, I'm pretty certain she didn't even do all the reading she was assigned for school.
An interesting thing happened just before Christmas, however. I mentioned that Taylor Lautner was set to star in (and probably co-produce) the film version of
Incarceron
. My comments were actually directed at how smart I thought young Mr Lautner was for getting into production, but S had not heard of the book, whereas M and I had. (M had it squirrelled away in her room, so I've not yet managed to read it.) We gave her the basic gist of it, and S declared she was interested in reading it.
Sometime between then and now, she and I talked about the book again (briefly), and I told her that just because she'd stopped reading for fun at one point, it didn't mean that she was precluded from starting again. (I think it's important to let nonreaders know that even if they've made a point of being nonreaders, they are free to change their minds.)
This morning at 7:10, she boarded a train to D.C. to meet her father and M down there for the weekend, taking
Incarceron
as her travel partner. Allow me to share the text I received from her with you:
"I started
Incarceron
. Finally found the book that is going to get me back into reading."
Behold, the power a single book can have. Thank you, Catherine Fisher.