Between yesterday and today - and at Angie Frazier's recommendation - I read
The Lost Duke of Wyndham
and
Mr. Cavendish, I Presume
by Julia Quinn. This is the sort of benefit that comes from being a blogger. See, on Wednesday, I posted
my interview with Sarah MacLean
for the Winter Blog Blast Tour. (Other interviews this week were
L.K. Madigan
on Monday and
Marilyn Singer
yesterday. And I hope you will take the time to read them. But I digress.)
And Sarah MacLean talked about Angie Frazier's
Everlasting
, so Angie left a comment, and I responded, and things led one to the other and I ended up with a recommendation to read these two connected novels about two cousins, each of which who served as the Duke of Wyndham. And truly, they were delightful Regency romances (set in the year 1819).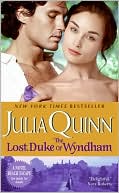 The Lost Duke of Wyndham
features a former army captain and present-day highwayman who, it turns out, might be the heir to the an important title. Oh, Julia Quinn, you had me at highwayman. The dowager duchess is a massive bitch of the first order (and thoroughly enjoyable to read). Jack Audley is smart, witty, wonderful and dead sexy, and he quickly attaches himself to Grace Eversleigh, the down-at-heels gentlewoman hired to be the dowager duchess's companion. Grace is friendly with Thomas Cavendish, the Duke of Wyndham, in whose home she is employed, as well as being friendly with Thomas's fiancé, Amelia Willoughby, who was contracted to him in infancy. The story starts at a ball and finishes with a proposal (technically, with an epilogue long after the proposal), and I found it utterly charming.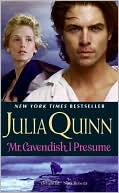 Mr. Cavendish, I Presume
covers almost the same exact time span as
The Lost Duke of Wyndham
and contains the same characters as well, except that it extends several weeks further in the main action (and, conversely, ends seven or eight years earlier in its epilogue). Like
The Lost Duke
, it starts at the same ball, and it too ends with a marriage proposal. And I found it extremely charming as well. (I still have to give the edge to
The Lost Duke
because, hello,
highwayman
, although I found the male cover model on this one infinitely preferable to the one on
The Lost Duke
. M says he looks a lot like the lead singer for
Train
, which might be why I thought he looked a bit familiar.)
On a scale of tame to hott, they are mid-spectrum. There's kissing, of course, and a wee bit of sexytimes, but not to the extent of many other books (either in number or in depth of description). Certainly nothing I'd hesitate to hand to my teens, who are in their sophomore and senior years in high school, although I'm sure there are lots of parents who wouldn't. (There are lots of parents out there perfectly willing to let their kids see or read about horrific violence, but when it comes to depictions of a loving relationship that involve sexual activity, they're against it - I don't pretend to understand it and I obviously don't agree with it, I just know it's true based on observation and discussions with other parents. I tend to think more love, less violence is the way to go, but your mileage may vary. Live and let live, yes?)