Those of you seeing this on Live Journal are probably wondering what Mr. Knightley is doing here since this post is about
Pride and Prejudice
. Well, as you can see from his disgruntled expression, he "is clearly not reading Jane Austen."
Although we recently finished
a reading of Sense & Sensibility
, I have succumbed to pressure (gentle pressure, but still) to re-read and blog about
Pride & Prejudice
.
You are officially invited to join me on January 1, 2011, for a chapter-by-chapter reading of Pride & Prejudice.
It does not matter what edition of the book you use, although I heartily suggest not buying an edition that includes zombies, as we will not be reading that particular adaptation, and I don't really like
The Annotated Pride & Prejudice
done by David Shapard because I found multiple inaccuracies or errors in his notes.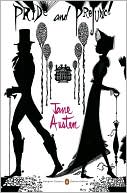 Should you find yourself needing a copy, may I recommend the lovely Penguin paperback pictured to the left? (It's the edition I gave to M for Christmas last year.) Or pretty much any other copy - they can be had for less than $10 or £5, or for free from a library or online at
Molland's Circulating Library
.