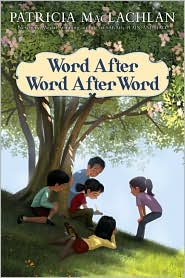 During my last visit to the local public library, I spotted a slim volume on the new release shelf in middle-grade fiction:
Word After Word After Word
by Patricia MacLachlan. I must confess that part of the reason I snatched it up was the author's name, but the larger part was actually the title's echo of one of my favorite books on writing, Anne Lamott's
Bird by Bird
. (I suspect this echo may not be entirely coincidental, even if there is every possibility that it was subliminal on MacLachlan's part.)
It's not often that middle grade fiction opens with an epigraph from Joan Didion, but this one does. Here's Didion's quote:
I write entirely to find out what I'm thinking, what I'm looking at, what I see and what it means. What I want and what I fear.
The book is a hybrid sort of thing. It's fiction, and it's a novel, but it's also an inspirational book about writing. It's told first-person from the perspective of Lucy, a fourth-grade girl whose mother is being treated for cancer. She relates the backstory of her fellow classmates - Evie (whose parents are separated - she lives with her dad and younger brother, Thomas), Henry (who calls his parents Junie and Max), May (whose parents are adopting a new baby), Russell (who has to babysit for his baby brother, Oliver, a lot), as the book goes on.
Their class is visited by Ms. Mirabel, an author not unlike Patricia MacLachlan. She even brings bags of soil from the prairie where she was a child to the classroom, and reads selections from
Sarah, Plain and Tall
and
Baby
, both of which are MacLachlan's books along with a bit of
Charlotte's Web
by E.B. White and
Tuck Everlasting
by Natalie Babbitt. The kids find out a lot about what they're thinking, what they're looking at and what it means, what they want and/or fear as they work on their writing for Ms. Mirabel.
I found myself liking this book a lot in its capacity as writing inspiration. I'm less certain what I think about it as an actual novel, though I know I don't
dis
like it, since several of the kids have serious problems, and they seem a bit tidily wrapped up to me. Still, this is Patricia MacLachlan, and her spare prose manages to give a good sense of the individual kids and their relationships with friends and family without a lot of spare room. And heck, I even cried real tears over one bit. (If you get your hands on this book, it's the bit that starts on the bottom of p. 119 and concludes at the top of p. 120.) So I suppose I have to give it a thumbs-up there as well, even though I am am still thinking about what I think (if you know what I mean).
MacLaughlin's Author's Note explains that she wrote this book as a way of writing about writing, and about being a writer. She preferred this fictional version to something kids might already have heard from or about her. I think I probably prefer this too, come to think of it.