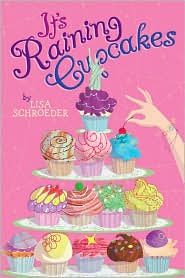 Remember
my post on Sunday
about staying up after bedtime reading books - and not just when I was a kid? Well, last night it was entirely Lisa Schroeder's fault, since I was spending time with Isabel, the main character of
It's Raining Cupcakes
. I had every intention of marking my place and going to bed at a decent hour - really and truly I did - but it just didn't pan out that way for me. Instead I found myself up until after 1 a.m. so I could finish the book. (It's my own copy, which I bought when the book was first released, and just now got around to. Eep.)
N.B.
: Staying up until very late at night/early in the morning to read this particular book is an especially egregious mistake because there are CUPCAKE RECIPES at the conclusion of the book, and willpower is weak, but energy levels are low at that time of night and so I went to bed wishing I had a cupcake. And I don't even have a particular affinity for cupcakes. Speaking of which, could Lisa's timing on this book have been any better? Cupcakes are the new black, or so it seems, with special cupcake stores opening all around the country, places like Starbucks and chain bookstores now carrying them (both Borders and Barnes & Noble have them), and a variety of popular cupcake cookbooks being available? Some sort of cupcake Zeitgeist is sweeping the nation. Too bad the Zeitgeist doesn't deliver cupcakes at 1 a.m.
In case you haven't yet heard about this book, it's the story of only child and soon-to-be 7th-grader Isabel. Isabel has spent her whole life in Willow, Oregon, and she desperately wants to travel elsewhere. Everyone except her parents have been places - her aunt is a flight attendant, her best friend goes to camp, Disney and the Grand Canyon, her neighbors go to various places in Europe, even her teacher has been out of the country. But travel isn't something that Isabel's parents do, so she's stuck waiting until she's a grown-up. Or is she?
When Isabel's friend Sophie tells Isabel about a baking contest for kids with a prize involving travel to New York City, Isabel sets out to create the perfect recipe for jam-filled tarts. Isabel's mother, who is in the process of opening a cupcakery called "It's Raining Cupcakes", leans on her hard to create and submit a cupcake recipe instead, in order to help promote her new business. Isabel has to decide what to do - a decision made that much harder by her mother's precarious mental state: she appears to suffer from depression (at the very least), and everyone walks on eggshells around her for most of the book, putting that much more pressure on Isabel.
Isabel is a resourceful, clever kid with an advanced knowledge of baking (certainly more advanced than me!) and a lot of heart, and I enjoyed reading her story to find out how things turned out for her. With so many hurdles in her way - some of her own making and some created by others - it proved to be unputdownable.
In the end, I think one of Isabel's little notes sums up how this book made me feel:
People travel to see beautiful things,
But really, beauty is everywhere,
isn't it?