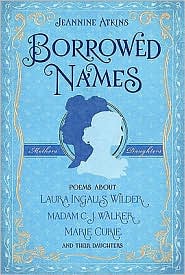 I promise to tell you all more about this book once I've finished reading it. Then I'll do a proper review. But for today, you'll have to settle for this half-assed blathering. See, I might not get back to finish it for a little while, but I simply cannot NOT tell you about it until then.
I read the first third of
Borrowed Names: Poems About Laura Ingalls Wilder, Madam C.J. Walker, Marie Curie and Their Daughters
last week before being struck by the lightning-like impulse to write the Shakespeare poems. (I totally blame Sara Lewis Holmes for my inability to finish reading Jeannine's book for the time being, but I expect I'll get back to
Borrowed Names
as soon as I'm done drafting this particular collection. I blame the Jane project for having waited as long as I did to open Jeannine's wonderful book, because it was biography in verse, and Jeannine's poems are biographies in verse. And somehow my brain can't hold two of these things in it at the same time - or rather, if I'm writing such a thing, I can't also be reading it. Silly brain.)
HOWEVER. Can I just take a second to rave about the section of the book that I
did
read? I read the first third of the book, which is about Laura Ingalls Wilder and her daughter, Rose Wilder Lane; it is absolutely magnificent, and that word only barely touches on exactly how splendiferous it is. I am completely blown away by what Jeannine did here. Because while she wrote poems, and while she wrote biography, what she really, truly did, was to evoke the essence of her subjects in all its complexity. And she does this in part with a
chiaroscuro
-like attention to detail: what is left in shadow is as important as what is brought forward, and there are places where she leaves gaps for the reader - not to leap over, but to leap into. As with the start of the very first poem in the book, entitled "Fire":
Rose sees blood on the linen
before her grandmother plunges
the sheets in a tub. Pa scrubs dirt
from his hands. Whatever happens,
fields must be tended.
Mama Bess goes back to bed. Again.
We've been told that "Mama Bess" was what Rose Wilder called her mother, Laura Ingalls Wilder. When this poem takes place, Rose is a little girl. She doesn't seem to know what those bloody sheets are about, or why Mama is back in bed, but most readers will immediately figure it out. And if they don't, there's a poem much later in Rose's story that explains it - that comes after Rose is grown, and has become pregnant. All the losses in Rose's story add up, and I have to assume I'm not the only reader who cried for poor Rose along the way, even with all her successes.
The poem "Not Today" completely took my breath away when I reached p. 72 of the book, even though I read it before - back in April, when
Jama Rattigan posted it on her blog
. If you are a writer, an artist, a musician - a creator of things - I strongly encourage you to click that link and read "Not Today", in which Rose tells her mother to ignore the housework and to work on her writing.
Jeannine, if you're reading this,
I apologize for being such a slacker: for not having read this sooner, for not having finished it yet, for not being able to summon the words to explain exactly how impressed, enchanted and awed I am by what you've done here. This book deserves better than I've given it thus far. It deserves to be read and re-read, and I can safely say that will be the case for me.
Anyone else reading this:
Do yourself a favor and get your hands on this book. The first 80 pages alone are worth the price of the book, and I have a sneaking suspicion that reading the
whole
book will pay you back in remarkable ways.