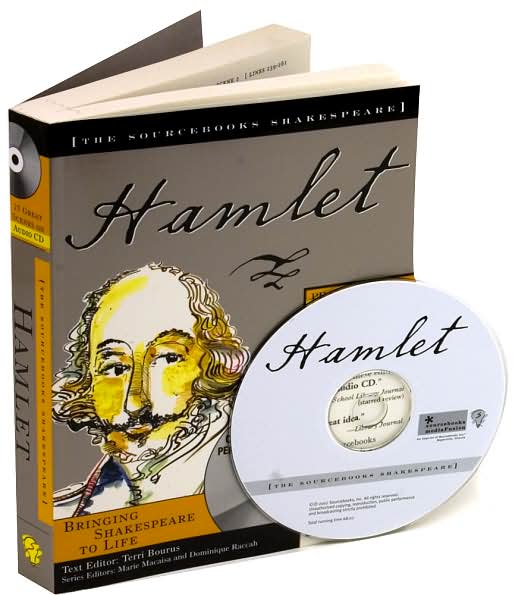 Welcome to the first contest for this year's Brush Up Your Shakespeare Month here at Writing & Ruminating! To the right, you see the prize you're playing for:
a brand-new, never-been-used copy of Hamlet, the Sourcebooks Shakespeare edition
that I purchased just for this purpose. In addition to an annotated text of the First Folio version of the play, the book contains a chapter on productions throughout the year, another specifically on Branagh's film version, comments from the 2006 stage production by Actors from the London Stage, an essay from a voice coach on practical matters, and a chapter on Shakespeare's times. The book comes packaged with a CD containing narration by Sir Derek Jacobi, known for excellent performances of the roles of both Hamlet and Claudius, along with snippets of performance by a variety of Shakespearean actors including Jacobi, Sir John Gielgud, Sir Laurence Olivier, Dame Ellen Terry, Richard Burton, and John Barrymore, among others. Each set of lines singled out for the CD is presented twice, so that you can hear differing interpretations of the same material. Or so I've surmised - as I said earlier, it's never been used, so I didn't open the CD and have a listen.
How do you win this fabulous prize?
Easy peasy. You have until midnight, Eastern time, on Sunday, June 6th, to leave a substantive comment on any of the posts on
Hamlet
or
The Tempest
. There will be a few additional
Tempest
posts between now and then, but as of now the eligible posts are listed below. The links take you to my "main" blog at LiveJournal, but substantive comments left here at Blogger count as well:
HAMLET
Hamlet, part 1
In which I discuss the David Tennant/Patrick Stewart TV version and Jude Law's turn on Broadway
Hamlet, part 2
Shakespeare's use of backstory & foreshadowing
Hamlet, part 3
Ophelia backstory & foreshadowing
"Doubt thou the stars are fire"
from
Hamlet
, by William Shakespeare
Hamlet, part 4
Who's there?
Hamlet, part 5
The body count
Hamlet, part 6
The Ophelia issue: A conversation with Lisa Mantchev
Hamlet, part 7
Solid or sullied?
Bonus entry opportunity:
Comments left between June 1st and the June 6th deadline on
Last year's post summarizing Hamlet
will also count toward this contest.
THE TEMPEST
The Tempest, part 1
A summary of the play
The Tempest, part 2
Caliban, the native
Those of you who have already left substantive comments are already entered to win. But you know what they say - you have to play to win, so enter early and often!