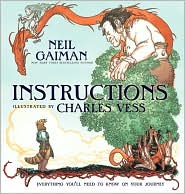 Today, a quickish review of
Instructions
, the latest picture book by Neil Gaiman, with illustrations done by Charles Vess, who did the wonderful work on
Blueberry Girl
. This book is decidedly something I would have read to my children when they were young - perhaps after reading one of their other favorites,
Mufaro's Beautiful Daughters
by John Steptoe, which uses some of the fairy tale conventions found within this set of instructions. But it is entirely appropriate for adults, too - a picture book for all ages.
Longtime readers may recall that I posted
an excerpt from this poem
last August, along with video of Neil Gaiman reading the poem. (He is, as always, a most excellent reader.) What I may not have told you is that earlier this year, I began a new commonplace book, and the very first thing I copied into it was this poem, which I adore. Not just because I wish I'd written it - although that, of course, doesn't hurt - but because it is an inspired, inspirational piece of writing. On the surface, it is a poem containing just what it says: instructions. On its face, these instructions are there to help one navigate through a fairy tale sort of world, and it includes tips like "Trust the wolves, but do not tell them where you are going" and "If an eagle gives you a feather, keep it safe." It contains, of course, so much more, since so many of the instructions apply in the real world (or should). Such as:
However,
if any creature tells you that it hungers,
feed it.

If it tells you that it is dirty,
clean it.

If it cries to you that it hurts,
if you can,
ease its pain.
And in the middle is excellent advice for writers, whether that is precisely what Mr. Gaiman intended it to be or not:
Do not be jealous of your sister:
know that diamonds and roses
are as uncomfortable when they tumble from one's lips as toads and frogs:
colder, too, and sharper, and they cut.

Remember your name.

Do not lose hope--
What you seek will be found.

Trust ghosts.
Trust those that you have helped to help you in your turn.

Trust dreams.

Trust your heart,
and trust your story.
Long story short? You need this book. Or someone you know and love does. A writer, perhaps. Or a graduate.
Physically, this book is lovely. It is a small size, for a picture book, roughly 7-1/2" wide x 8" high in size, and it contains 40 pages, all of them covered with Vess's art. The illustrations capture the magic and adventure of a fairy tale world. And since I'd love for you to see and hear this book as soon as possible, I've added the book trailer for this book below - which features a complete reading of the text by Neil Gaiman, along with semi-animated images of the illustrations (including some that move from sketch to completed artwork before your eyes):