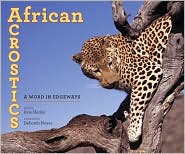 Over at
I.N.K. (Interesting Nonfiction for Kids)
today is my review of
African Acrostics: A Word in Edgeways
by Avis Harley, illustrated with photographs by Deborah Noyes.
It was one of my favorite poetry collections from 2009, and I can't believe I somehow missed reviewing it until now. Here's the crux of my comments:
In addition to providing spectacular photographs of African wildlife including elephants, hippos, crocodiles, giraffes, zebras, impalas and more, the poems include factual information about the animals, all in the form of acrostic poems - a form known by many teachers and children, and one that usually results in rather simplistic poems. Not so with Harley's work - she takes acrostics to a whole new level of clever.
To write an acrostic, you take a word (or phrase) and write it down the left-hand side of the page, then you start each line with the applicable letter. In the case of the poem entitled "A Croc Acrostic", the acrostic is the name of the profiled animal: "CROCODILE". Harley, however, got creative with other animals. The poem about the rhinoceros is not a 10-line poem based on the animal's name. Rather, it is a 16-line poem based on the acrostic "BEAUTY IN THE BEAST", which is the "edgeways" word down the side of the poem entitled "Moody Guy".