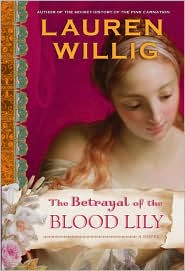 Once upon a time I went on a bit of a tear reading (and, if truth be told, re-reading) the books in the series that begins with
The Secret History of the Pink Carnation
. I remain especially fond of books 3 & 4 (
The Deception of the Emerald Ring
and
The Seduction of the Crimson Rose
- especially
Crimson Rose
since I love how she takes an anti-hero and anti-heroine and makes them the main characters, and I love them). Anyhoo. I got to the fifth book,
The Temptation of the Night Jasmine
, and was . . . disappointed. Didn't love the historical romance, not all that much happened with the contemporary romance either.
But Willig is back on her game with her latest release,
The Betrayal of the Blood Lily
, which was released in January. In fact, I read it the same day it came out in stores, and just now recalled that I ought to talk about it.
In
Blood Lily
, we follow Penelope and her ne'er-do-well of a husband, Freddy Staines, to India, whence they've been sent to allow the scandal surrounding their hastily patched-up marriage (after Penelope was "compromised" during a country house party) to die down. Upon her arrival in India, Penelope meets the delicious Captain Alex Reid, who is to escort her and Freddy to their intended destination in Hyderabad. Intellectually and morally Freddy's superior in every way, it is easy to fall for the good captain, who has an understanding of and appreciation for Indian culture that Freddy and his cronies lack.
This one has phenomenal chemistry, a very interesting setting/set-up, and returns us to a feistier heroine than Charlotte was (in
Night Jasmine
). Penelope is an expert rider, a crack shot, and is bold enough to dive in the river to save someone while her worthless husband stands about. Her unhappiness in her marriage develops in an understandable way and her willingness to pursue other options with Alex makes sense as well.
Although not, strictly speaking, a
Pink Carnation
book, since that particular spy doesn't appear in the text, it is wonderful to follow Pen's story. The contemporary romance between Eloise and Colin was actually quite satisfying for me in this volume, apart from Willig's almost compulsion to repeat (at least two to three times more than required) that Eloise is still wondering whether Colin is actually writing a spy novel or is, in fact, a spy. Seriously. Trust the reader. You said it last book, and once was enough in this book. We didn't need it in nearly every contemporary chapter. But I digress.
Definitely a return to form. And now I'm wondering who the next hero or heroine will be, since it seems that all of the characters we've been introduced to thus far have been paired off, except for Turnip Fitzhugh. Oh - and looking at the author's site, it would appear that Book 7,
The Mischief of the Mistletoe
, is indeed going to be Turnip's book - and that Jane Austen will be making an appearance as a character. My squeeish anticipation for October 28th has now begun in earnest!