Today is the first day of the Great Backyard Bird Count in the U.S. and Canada. I already spent 20 minutes this morning
going snowblind
counting birds at the feeders in my yard. Thus far, I've spotted:
10 dark-eyed juncos
3 purple finches
5 gold finches
2 cardinals
3 chickadees
2 Carolina wrens
The numbers above are the highest number of each species that I was able to count at once in my yard, in keeping with
the instructions on how to participate
- so the five juncos I saw at first may or may not be included in the 10 that were here all at once a bit later. I'm not ready to file my report yet because I frequently see tufted titmice, blue jays, mourning doves and nuthatches in my yard, with occasional special appearances by woodpeckers, and none of them have turned up yet. I'll go watch again once I'm done with my post to see if anyone else shows up of if any of the above numbers skew higher, and then I'll fill in my information at the
Great Backyard Bird Count
site a bit later.
The GBBC takes place today, tomorrow, Sunday and Monday, and you have until March 1st to enter your information online or, if you don't have a computer handy at home, you can print off a form and mail it in.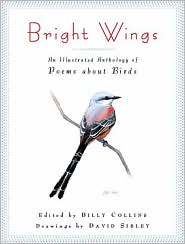 Seeing as today is Poetry Friday, I thought I'd take a moment to spotlight a recent anthology that pairs well with the GBBC. No, not
The Cuckoo's Haiku
, which I
reviewed here
last year, although that is also a fine pairing, but
Bright Wings: An Illustrated Anthology of Poems About Birds
, edited by Billy Collins, with paintings by David Allen Sibley.
Billy Collins has eschewed some of the most-anthologized poems about birds. No "Something Told the Wild Geese" by Rachel Field, or "The Oven Bird" by Robert Frost or "The Wild Swans at Coole" by William Butler Yeats. This is not to say that he hasn't included some old poems - there is, for instance, "In Walden wood, the chickadee" by Ralph Waldo Emerson, some Wordsworth, Dickinson, Tennyson and even a selection from "The Parliament of Fowls" by my ancestor, Geoffrey Chaucer. But Collins favored setting aside some of the poems that are found in nearly every bird- or nature-related anthology in favor of including more works by modern poets. And so it is that I found, on page 167, "December Notes" by Nancy McCleery:
December Notes
by Nancy McCleery
The backyard is one white sheet
Where we read in the bird tracks
The songs we hear. Delicate
Sparrow, heavier cardinal,
Filigree threads of chickadee.
And wing patterns where one flew
Low, then up and away, gone
To the woods but calling out
Clearly its bright epigrams.
More snow promised for tonight.
Read the rest.
And, on p. 203, I can read a poem named after those lovely crimson birds that were on my feeder just now:
The Cardinal
by Henry Carlile
Not to conform to any other color
is the secret of being colorful.
He shocks us when he flies
like a red verb over the snow.
Read the rest.
There are poems about lesser-seen birds, like the blue-footed booby, and about commonplace birds such as sparrows, and most of the poems are accompanied by paintings by noted ornithologist and illustrator David Allen Sibley. There are some well-known poems, such as Wallace Stevens's
"Thirteen Ways of Looking at a Blackbird"
Truly, a must-have for poetry fans and birders alike.