Today being "Nonfiction Monday" in some corners of the interweb, I figured it was as good a day as any to post a short review of
14 Cows for America
by Carmen Agra Deedy, with Wilson Kimeli Naiyomah, illustrated by Thomas Gonzalez, which is
one of the finalists on the CYBILS list of nonfiction picture books
this year. I have to say that as the poetry coordinator, I know a very little about what's going on in poetry (nope - not a word from me on that point) and absolutely no clue what's going on in any other categories, although I'm pleased that two of my nominated titles are finalists (including
Mermaid Queen
in NFPB and
Edgar Allen Poe's Tales of Death and Dementia
in Graphic Novels).
I
will
say that I read this book after seeing it mentioned on someone else's blog - can't recall whose just now (sorry!) - and that it moved me quite a bit. As I stood crying in the middle of the children's section in the Barnes & Noble near my home (I
do
prefer indies, but I have to drive at least an hour, pay tolls and/or cross state lines to get to them), I knew it was one powerful book, made all the more so by its marvelous illustrations, which are
explained in marvelous detail
by Franki Sibberson at
A Year of Reading
following a conversation with Thomas Gonzalez.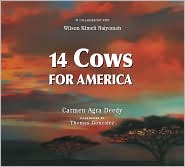 This picture book, written in omniscient perspective, tells a story set in a small Maasai village in Kenya. The book opens as Kimeli returns from New York City, where he's been studying to be a doctor, and shares with his family and friends the horror of the September 11th terrorist attacks. The words convey that there was fear and danger and loss of life without being at all gruesome - no mean feat, by the way, and yet Deedy conveys what happens for a generation of children for whom September 11th has always been and will always be history - something that happened when they were infants or before they were born. Because the story is set in Kenya, the primary illustration is of Kimeli telling the story to his tribe, with a blear of smoke- and fire-colored strokes between his hands as he relates the tale, again conveying a sense of confusion and tragedy without a graphic depiction of what took place.
The Maasai are a nomadic tribe of cattle herders these days, with a proud history as warriors. Kimeli's tribe are horrifed to hear of the loss of so many people, and when Kimeli seeks the blessing of the elders for his plan to offer his cow to America, the tribe agrees . . . and comes forward with an additional thirteen cows: 14 cows for America, which are presented as a gift of support to the U.S. Ambassador to Kenya in a full-day ceremony. The story is moving and touching and, moreover, true.
The copy I purchased is being sent to my brother today, for him to carry with him to Kenya when he and my mother leave in two weeks' time for a visit to the
Kinyago-Dandora School
. This will be Keith's third trip to Kenya to do faith-based mission work, and he's looking forward to being there to photograph the first class to graduate from the school so they'll have the photos available for future mission work. KDS serves children born into extreme poverty who would otherwise live (and work) among the humongous trash heaps in the area. Education is the way out of poverty not just for the child, but often for their family as well.
To read other Nonfiction Monday posts, click on the blue box below , which I turned into a button, just as the Poetry Friday button is a workable link on my blog: