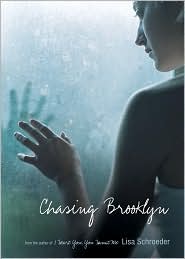 Today was the release day of
Chasing Brooklyn
, a novel in verse by Lisa Schroeder. I had the great pleasure (and luck!) of reading this one in ARC form prior to
my interview of Lisa for the Winter Blog Blast Tour
. I had read and enjoyed
Far From You
and
I Heart You, You Haunt Me*
, Lisa's prior YA novels, but
Chasing Brooklyn
breaks new ground.
For one thing, it's written in two voices: that of Brooklyn, a teenage girl who has been traumatized by the death of her boyfriend, Lucca, in an accident that happened a year ago, and that of Nico, Lucca's brother.
Brooklyn would give anything to see of hear from Lucca again, but it turns out that Lucca is in communication with Nico, urging Nico to help Brooklyn. Brooklyn, you see, who has barely started to climb out of the pit of depression that followed Lucca's death, is being haunted by Gabe, a mutual friend who committed suicide out of remorse over Lucca's death.
Impelled to help Brooklyn, Nico does what he can to console her, including getting her interested in training for a triathlon. Brooklyn finds that running, swimming, and cycling help her to feel better and perhaps work through her grief - that must be why she enjoys spending time with Nico, right? If only Gabe would leave her alone. If only she could tell someone. But who on earth would believe she's receiving messages from beyond the grave?
I'll say no more about the plot, but I
will
say that this is the most poetic of Lisa's novels yet, and that the alternating chapters and viewpoints totally works. While this novel, like the two before it, deals with overcoming loss (coincidental, according to
my interview with Lisa
, it manages to examine different sorts of loss (a brother and a son, as described from Nico's descriptions of himself and his family, a boyfriend and a friend, as described by Brooklyn) and different ways of manifesting grief (during the various stages of grief, as well). Once again, Lisa demonstrates her understanding of the intensity of first love, and offers an understanding of the grief process as well. The story is every bit as beautiful and haunting as that lovely cover.
*Fans of
I Heart You, You Haunt Me
will be pleased to learn that Ava, the main character from that book, makes an appearance in
Chasing Brooklyn
.