Allow me to recommend the following books, all of which make outstanding gifts:
For the picture book crowd, any poetry fan and any person especially interested in peace & harmony:
ALL THE WORLD
by Liz Garton Scanlon, edited by Marla Frazee. You can read my review of it here, which features some lovely inside spreads. This is high on my list of books I'd like to see win a Caldecott next year, and has made it onto a raft of "best books of 2009" lists. (Not that I care about other people's lists, really, but I figured you ought to know I'm not alone in my adoration for this title.)
For the picture book crowd and/or their grandparents:
ME WITH YOU
by Kristy Dempsey, illustrated by Christopher Denise may be just the ticket. This quiet story in rhyme tells the tale of a wonderful day spent together, and how sometimes the best thing in life is spending time with a loved one.
Here's my review.
Also for the picture book crowd:
CHICKEN DANCE by Tammi Sauer, illustrated by Dan Santat. Forget Click Clack Moo - typing cows have been played out, and dancing chickens are all the rage this year. Or should be. Marge and Lola will teach you how to shake your tailfeather, and Elvis Poultry will sing you to sleep awake. More info can be found in my review of this title.


MOUSE WAS MAD by Linda Urban, illustrated by Henry Cole. Ever been mad? Ever felt like you're in competition with your friends to be the best at something? Mouse knows exactly what both of those things are like, and it makes for one amusing tail - er, make that "tale." I reviewed this when it came out, and still enjoy looking through the pages at the wee mad mousie.


BELLA AND BEAN by Rebecca Kai Dotlich, illustrated by Aileen Leitjen. A charming tale of two friends who have very different takes on life, this one is a perfect gifts for any writers you know (picture book age or older), since it details exactly how challenging it can be to deal with a writer during one of their creative periods. I'm pretty sure I waxed eloquent in my review, which will give you a better idea of this book and its characters.


THE GREAT NURSERY RHYME DISASTER by David Conway, illustrated by Melanie Williamson is one of the funniest picture books I read all year. It's somewhat evocative of The Stinky Cheese Man, only I have to say I think it might be easier for the younger set to follow, given how the narrative is linked AND because it relies on simple nursery rhymes and songs. You can read more about it here.

Got boys?: One for the picture book AND middle-grade set:
If you've got boys, then I
highly
recommend
LEGO Star Wars: The Visual Dictionary
, which has been a tremendous hit with boys from 1st through 6th grade (I tested it, as you can read in
my review of the book
, which included reader feedback from
's sons, who I called "Luke" and "Obi Wan" for purposes of the review.

For the middle-grade set:


THE BRILLIANT FALL OF GIANNA Z by Kate Messner is high on my list of recommended books. Not because Kate is a friend (although she is), but because this is the sort of book that sticks with you long after you've put it down. A perfect gift for an upper elementary or middle-school-aged girl, this book combines humor and pathos and friendship and just a hint of budding romance. You can read the rest of my thoughts on it in my review.


OPERATION YES by Sara Lewis Holmes is a great pick for middle-graders. It includes male and female characters and should appeal to readers of both genders: it takes place primarily in the school on a military base, and features a rather unusual (and wonderful) teacher, and a dilemma that the kids have to find a way out of on their own. Powerful, funny, engaging, thoughtful, and entertaining, just as you might expect if you've ever met the author (and I have) - she is all of those things and more.


THE THIRTEEN CLOCKS by James Thurber, illustrated by Marc Simont, foreword by Neil Gaiman is highly recommended for middle-grade fantasy lovers, and extraordinarily delicious as a read-aloud that works for the younger set as well. The wordplay and poetry and magic of this story is simply enchanting. You can read more about it - and how to find it - in my review.

For the YA fantasy reader:

Man, was this a banner year for YA fantasy or what? Here are a handful of the books I especially adored: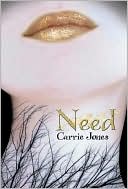 NEED by Carrie Jones is a must-buy for any teen fantasy lover who hasn't read it yet - especially since it is now available in paperback, and its sequel, CAPTIVATE, is hitting store shelves in a matter of weeks. Get it now, while you will still look prescient, before it blows up into a bestseller and then you'll just be a bandwagon-rider. (And yes, Carrie, I know you read this blog, and I am entirely serious on this point. And not because it will cause your agent to have to wear plaid flannel.) Better yet, give it along with a gift card or pre-order for CAPTIVATE. Your teen reader will thank you - I guarantee it. (Not in an "or I'll give you your money back" way, I'm afraid, but I am 99.44% certain that I am correct on this point.) You can read a review by an actual teen reader (my daughter M) here or my review.




There's no way you'll look prescient for this one, that ship having sailed out of the barn (mixed metaphors are complimentary here!), but if you've got a fantasy-loving teen who has not yet read it, SHIVER by Maggie Stiefvater is also high on my list of YA fantasy books this year. Its sequel, LINGER, is set to "drop" soon-ish, so consider giving SHIVER with a gift card or pre-order of the sequel, too. You can read my review of this book or, if you like, my daughter M's review.


PRINCESS OF THE MIDNIGHT BALL by Jessica Day George. I'm a sucker for fairy tale retellings when they're done well, and this one is done especially well. It's the story of the Twelve Dancing Princesses told from the point of view of a soldier/gardener named Galen, who is not only brave and loyal and true; he also knits. I did a far better job of describing this book in my review, but I really, really adored it. As in, "took it out of the library but then had to buy a copy because I loved it so much" adored it. So.


CHALICE by Robin McKinley is not for every teen fantasy reader, but it is for the thoughtful ones who don't mind investing some time and a bit of effort into reading a book. As I said in my review of this book, "if you can be quiet, and if you have a bit of patience - only a bit, you don't need a truckload - this book is magic." Also, it will make you crave bread and honey. Also-also, it's kinda sorta a retelling of Beauty and the Beast. But only kinda-sorta. And it made me cry after I finished reading it, because it was so terribly beautiful. As long as you know your reader, this might be just the thing they need (and it's now available in paperback!).


FAR FROM YOU by Lisa Schroeder makes a seasonally appropriate gift given that so much of it takes place in a snow storm. It's here with the fantasy books even though most of the book feels extremely real-world because it does include a somewhat supernatural sort of element. You can read my review from January or, if you'd prefer, you can get a teen's take on it with M's review.


For a particularly dark twist: go with DEVOURED by Amanda Marrone. Gorgeous cover, to be sure - and this read is one that will haunt you long after you've finished reading it. The main character goes to work at a theme park, horrifying enough in its own way, but as it turns out, this story has a Snow White sort of twist. Not only is the main character enlisted to dress up as Snow White for a particular attraction, but she is also subjected to the owners' hall of mirrors, which includes a particularly nasty sort of magic mirror. There are ghosts in this book as well, but the ghosts are actually far less scary than some of the actual humans with whom Megan must deal.

For fans of theatre, Shakespeare and YA fantasy: I actually have TWO titles to recommend:


EYES LIKE STARS by Lisa Mantchev is set in the magical Théâtre Illuminata, where our teenage protagonist, Bertie, lives alongside all the magical characters from all the plays ever written. She has a huge crush on Nate, a pirate from the case of The Little Mermaid, and a love-hate relationship with Ariel, the spirit from Shakespeare's The Tempest. And she has a past clouded in mystery, a future clouded in doubt and a present surrounded by mayhem. You can read my list-like not-review in this post from June.


Wondrous Strange by Leslie Livingston, which gets its title from the same act in Hamlet as does Mantchev's book, is also a theatre-based, Shakespearean-related YA fantasy that explores Arthurian and other British tales. It also features a teenage protagonist who is interested in a career in the theatre, who, it turns out, also has a mysterious past. The particular wrinkle in this one will knock your socks of, I think - you can read my review for more information, but no actual spoilers. This one is now available in paperback.

Historical fiction YA fans really ought to like: Mare's War by Tanita Davis. During a road trip with their rather ebulliant grandmother, two teen-age girls learn the story of what makes their grandmother tick. Do they gain increased understanding of and respect for their eccentric grandmother? Sure - as does the reader, who learns what it was like to be a "colored" woman during World War II, and what the treatment of women (and African-American women in particular) was like during that time, as well as learning about the contributions to the war that were made by women at a time when they were not fully integrated into the United States armed services. This one is an interesting blend of contemporary and historical fiction (contemporary road trip, historical story from grandmom), but the historical fiction very much puts you in the "now" - and it's interesting to trace the changes in Mare's diction and vocabulary as she polishes herself along with her Army boots.


For horror fans, humor fans and/or haiku afficianados, get one or both of these books: VAMPIRE HAIKU and/or ZOMBIE HAIKU by Ryan Mecum, both of which are just the right size for a stocking, as long as the stocking belongs to a teen or adult who is into black humor and the macabre. I reviewed VAMPIRE HAIKU here and at Guys Lit Wire. It tells the story of a vampire who came over on the Mayflower, and offers a clever reimagination of various events in United States history, all of which are vampire-related.


ZOMBIE HAIKU tells the story of a future zombie plague from two perspectives - that of a young man who begins as a normal poetry-writing guy and becomes a haiku-writing zombie (with disgustingly funny - and in some cases, plain disgusting - haiku to show for it) and that of a man who finds and reads the journal while himself morphing into a zombie. I reviewed it extremely briefly here and at greater length over at GLW.


For younger horror fans: The MONSTEROLOGIST: A Memoir in Rhyme by Bobbi Katz, illustrated by Adam McCauley, book design by Cynthia Wigginton, is the way to go. I wrote an extremely enthusiastic review of this book a while back, and I stand by this one. It's a guaranteed hit with anyone who enjoyed FRANKENSTEIN MAKES A SANDWICH and/or FRANKENSTEIN TAKES THE CAKE by Adam Rex, and really, who didn't enjoy those?


For fans of graphic novels, history buffs (esp. those interested in the Dust Bowl): My favorite this year, hands down, is THE STORM IN THE BARN by Matt Phelan. This graphic novel includes fantastic artwork, a quite literary story including references to the works of L. Frank Baum, and an attention to historic detail and the conventions of tall tales that will blow your mind. You can read my review here, or my other review at Guys Lit Wire.