Thus far, I've had a quiet morning at home alone, the buzzer on the dryer just now notwithstanding. Soon, though, I must fling myself into the outer world, to the world of post offices and shops and the like. And since there is cloud-filtered sun today, I don't mind in the slightest that I didn't get some of the shopping chores done on Sunday, when it was ark-building weather here, although I rather wish I'd gotten more accomplished yesterday, when it was all the way sunny.
Speaking of today's sun, I am reminded yet again of one of my favorite Dickinson poems, which begins
"The morns are meeker than they were"
, since the sun at this time of year is so very lovely, but it is indeed meeker – it has a watery quality to it, and in the late afternoon it has a golden quality that I associate with Tuscany, despite only having been there once (and some years ago now). Turns out that Miss Dickinson and I aren't alone in giving thought to the way autumn and early winter sun looks.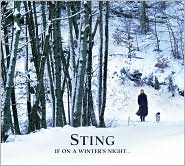 In his latest album, Sting has penned lyrics to a lovely tune by Johann Sebastian Bach and come up with "You Only Cross My Mind in Winter", which has a haunting quality to it. The specific piece of music from which he borrowed is the Sarabande from Bach's Sixth Cello Suite, to which Sting has crafted ghost-story lyrics:
You Only Cross My Mind in Winter
by Sting
Always this winter child,
December sun sits low against the sky,
Cold light on frozen fi elds,
The cattle in their stable lowing.
When two walked this winter road,
Ten thousand miles seemed nothing to us then,
One walks with heavy tread,
The space between their footsteps slowing.
All day the snow did fall,
What's left of the day is close drawn in,
I speak your name as if you'd answer me,
But the silence of the snow is deafening.
How well do I recall our arguments,
Our logic holds no debts or recompense,
Philosophy and faith were ghosts
That we would chase until
The gates of heaven were broken.
But something makes me turn, I don't know,
To see another's footsteps there in the snow;
I smile to myself and then I wonder why it is
You only cross my mind in winter.
Is that not haunting and gorgeous? You have GOT to hear it with the tune. Oh. Thank you, kind sir from YouTube: you've posted the music as accompaniment to gorgeous photos of Salamanca in the snow:
Sting's new CD,
If On a Winter's Night . . .
, has been on near-continuous loop for me for weeks now. The songs are an interesting mix – lots of lullabyes as well as some Christmas-themed music, but none of it is happy-happy-Father-Christmas music, and according to the liner notes, that's entirely on purpose:
Like many people, I have an ambivalent attitude towards the celebration of Christmas. For many, it is a period of intense loneliness and alienation. I specifically avoided the jolly, almost triumphalist, strain in many of the Christian carols. I make a musical reference to "God Rest Ye Merry, Gentlemen" only as a dramatic counterpoint to the words in "Soul Cake", for example. This was a song sung at Halloween by children who go from door to door asking for pennies and "soul cakes" (the latter not originally intended for the living). I was also keen to avoid the domestic cosiness of many of the secular songs, recognizing that, for many, Winter is a time of darkness and introspection.
. . .
Walking amid the snows of Winter, or sitting entranced in a darkened room gazing at the firelight, usually evokes in me a mood of reflection, a mood that can be at times philosophical, at others wildly irrational; I find myself haunted by memories. For Winter is the season of ghosts; and ghosts, if they can be said to reside anywhere, reside here in this season of frosts and in these long hours of darkness. We must treat with them calmly and civilly, before the snows melt and the cycle of the seasons begins once more.
The title of the work,
If On a Winter's Night . . .
, is a reference to a novel written by Italo Calvino and translated into the English under the title
If On a Winter's Night a Traveller,
, which sounds intriguing - the odd-numbered chapters are excerpts from a book that the main character is trying to read; the even-numbered are written in second-person and narrate the mc's life. I'm probably oversimplifying, but hey - I haven't read the book. Yet.
In
If On a Winter's Night . . .
, the CD, I am especially fond of "You Only Cross My Mind in Winter", "Cold Song" and "Lullabye for an Anxious Child", and "Hurdy-Gurdy Man" is growing on me, sad though it is, but there is much to love about this entire project, especially if you fall into one of the following categories:
1. music geek with an interest in music history (Purcell, Bach and Schubert anyone?);
2. Sting fan – especially if you liked
Songs from the Labyrinth
(and I sure did);
3. introspective Winter person (those who are prone to thoughtfulness at this time of year – and I'm not talking "oh, what a thoughtful gift" thoughtfulness here – more of the "this sort of year always has me assessing life and its meaning" sort of thoughtful);
4. folks who aren't particularly interested in Christian or Santa celebrations of the season, which isn't limited to pagans and Wiccans, although I rather suspect both those groups will find much to love in this CD.
Despite having just said that folks who aren't particularly interested in Christian or Santa-based celebrations of the season will love this, I have to say also that many folks who ARE into Christian and Santa celebrations will like it for the album's quieter, more introspective moments and because you simply won't find music on this CD elsewhere. It's not full of songs that are playing in heavy rotation in 20 versions on the radio - no "Santa Baby" here. In fact, the only song you might here using the same tune elsewhere is "Lo, How a Rose E'er Blooming", which is a particular favorite Christmas carol of mine, although it's one of my least-favorite tracks on this CD because there's a spoken part that on occasion strikes me as cheesy (although at other times I don't mind it –it's a mood thing). This CD has no "Deck the Halls" or anything in that vein, no "Here we come a-wassailing" (although "Soul Cake" has some echoes of the words from that song in it), no "Angels We Have Heard on High", although "Gabriel's Song" does have a
gloria
in it.
I bought and downloaded my copy of this CD from iTunes, and I can tell you that I regret doing so – although, I have to add that
because
I did so, I got a bonus track, "Bethlehem Down", which is not on the CD/DVD pack, which has, instead, "Blake's Cradle Song" as a bonus. The reason I regret it is that I really want to be able to hold the CD package and hug it and pet it and call it George, and frankly, having just ascertained that I can see a DVD and have a different bonus track, I believe I've just talked myself into buying the package at the store despite already owning most of the tunes. Because hey! Video footage and a different bonus track = justification.
If you are buying only one CD of seasonally themed music this year, this is my recommendation, particularly if you fit any of the above-listed categories.