Today, a return of my once-established Sunday tradition: a quoteskimming post. As it appears I sort of lost the habit back in July of this year, I shall explain what the word means. It's a term
I coined in September 2007
- I shall be pulling some writing-related quotes from here and there and sharing them with you.
The quote in today's icon at my LiveJournal blog is from Lemony Snicket (who will be writing a new series at Little, Brown, having followed his editor when she moved, so it seemed fitting to use one of his quotes). It's from his book,
Horseradish
, and reads "If writers wrote as carelessly as some people talk, then adhasdh asdglaseuyt[bn[pasdlgkhasdfasdf."
On the need for solitude
First up, a bit of Jane Austen (since I'm working on one of my Jane poems at present). This is an excerpt from a letter she wrote to her sister, Cassandra, who had gone away for a while, leaving Jane in charge of running the household in her absence. (They lived with their mother and a friend, Martha Lloyd, with frequent visits from family and friends - both of the short social and long house-stay kinds.)
Jane's comments might be understood as being in favor of writing retreats, such as Angela and I are now on, in that she said she wished for:
. . . a few days quiet, & exemption from the Thought & contrivances which any sort of company gives.--I often wonder how you can find time for what you do, in addition to the care of the House
. . . Composition seems to me Impossible, with a head full of Joints of Mutton & doses of rhubarb.
On Writing Picture Books
I've started reading
Writing Picture Books
by Ann Whitford Paul, whom I had the pleasure of meeting in LA in 2007. Ann really knows her stuff. As many of you long-time readers are already aware, I have a particular fondness for form meeting function (as in E.B. White's #17 in "Elementary Principles of Composition" from
Strunk & White
: "Omit Needless Words."), and so I give you this tidbit from Chapter One of Ann's book, from the section entitled "Make Books Easy to Read Out Loud":
Besides avoiding words adults have difficulty pronouncing, don't write humongous sentences like this one that will make your poor unsuspecting reader gasp for breath way before reaching the desperately-needed punctuation mark that finally at long last signifies the end.
On Characters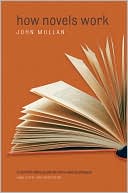 I'm still enjoying John Mullan's
How Novels Work
, which
I've mentioned here before.
I intend to go back and re-read it, in fact, since much of what I read while in the hospital failed to stick. Yes, I shall be re-reading a book that is essentially about re-reading. Oh the irony.
Here's a bit from the opening of Chapter 3, "People", in which he introduces the idea of characterization, and discusses how it is a topic often left out of critical narratives - and/or viewed by academic critics with suspicion:
Nothing is stranger or more important in our reading of novels than the sense that we are encountering real people in them. Academic critics tend to steer away from the business of characterization, even though it is invariably the ordinary measure of a novelist's achievement. It is as if succumbing to the illusion that a 'character' in a book is a person implies losing your critical faculties. Long ago, in a famous essay called 'How Many Children Had Lady Macbeth?', the critic L.C. Knights made it clear that the discerning reader should resist this weakness. How can we maintain 'the necessary aloofness from a work of art,' he asked irritably, if we 'treat a character as a human being'? Literary theory, while speaking in different terms, has preserved this aloofness. Sometimes its determination to avoid all talk of characterization is inadvertently comical. Here is Mieke Bal, a renowned narrative theorist, solemnly perplexed in her 1985 book Narratology when faced by the troubling illusion of a human presence in texts. "That no one has yet succeeded in constructing a complete and coherent theory of character is probably precisely because of this human aspect. The character is not a human being, but it resembles one." Just so.
And because I re-read
The Thirteen Clocks by James Thurber
this weekend, I give you this bit from Neil Gaiman's introduction to the reprinted version, which you can still order from
the New York Review of Books Children's Collection
:
I was fairly certain it was the best book I had ever read. It was funny in strange ways. It was filled with words. And while all books are filled with words, this one was different: it was filled with magical, wonderful, tasty words. It slipped into poetry and out of it again in way that made you want to read it aloud, just to see how it sounded. I read it to my little sister. When I was old enough, I read it to my children.

The 13 Clocks isn't really a fairy tale, just as it isn't really a ghost story. But it feels like a fairy tale, and it takes place in a fairy-tale world. It is short -- not too short, just perfectly short. Short enough. When I was a young writer, I liked to imaging that I was paying someone for every word I wrote, rather than being paid for it; it was a fine way to discipline myself only to use those words I needed. I watch Thurber wrap his story tightly in words, while at the same time juggling fabulous words that glitter and gleam, tossing them out like a happy madman, all the time explaining and revealing and baffling with words. It is a miracle. I think you could learn everything you need to know about telling stories from this book.
And now, I am off to enjoy the final few hours of my time here at our retreat in Brigantine, where I hope to finish that in-progress Jane poem to add to my pile of "what I've accomplished while here", which is, for the record: two sets of interview questions for the Winter Blog Blast Tour, which commences tomorrow - more on that later today, a manuscript critique for one of my dearest friends, the first draft of a lengthy non-Jane poem about which I am positively tickled just now, several ideas for Picture Book Idea Month, and the complete reading of two books (that includes the re-reading of
The 13 Clocks
), as well as blog posts and whatnot. Still, it's getting back into the swing of the Jane project that I most wish to accomplish, and so I shall take
my own advice from yesterday
and persist.