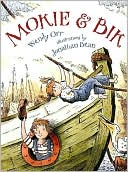 Last night, I read a book which came highly recommended to me by the lovely and talented
Linda Urban
(aka
). The book? Mokie and Bik by Wendy Orr, illustrated by Mr. Bean. Okay, illustrated by Mr. Jonathan Bean, but you know he must hear it from more than me, right?

Mokie and Bik is a chapter book. As the cleverest among you have already guessed, a chapter book is not a picture book or easy reader, or I'd have said so. And by definition, a chapter book has chapters. Because I've told you there's an illustrator, you have probably guessed that there are illustrations. With the exception of the cover, which has color art, the interior art is pen and ink drawings that are only in black and white.

In somewhat unconventional lay terms, chapter books are the gateway drug into novels. They are a way to ease kids into longer stories once they've gotten their reading legs under them through the use of easy readers. They are often humorous, and they include those illustrations that we just mentioned to offer visual clues that help emerging readers feel confident that they've sorted out the story. Chapter books can include things like easy wordplay, something that many kids love, particularly now that they're feeling they've got a handle on words. And they usually have somewhere in the neighborhood of 10 shortish chapters. The kids notice the 10, not the shortish, and it helps them build confidence.

Popular chapter book characters include Judy Moody, The Magic Treehouse kids, the Boxcar Children, Junie B. Jones, and Clarice Bean. And from now on, I believe they'll include Mokie and Bik.

The actual review:

Mokie and Bik are twins with highly unusual names. One is male, and one is female, and it took me a while to sort out which name went with which kid (as in, I really had no clue for a while, and then when I heard it, I didn't find the selections intuitive, and had a hard time sorting out who was who unless I was assisted by pronouns, which sometimes, I wasn't). Because I loved some other things about the book so much, I am feeling forgiving of that particular pitfall.




Mokie and Bik lived on a boat called Bullfrog. They lived in it, on it, all around it—monkeying up
  ladders
    and
      down
        ropes,
over the wheelhouse and across the cabin floor.
"Twins!" their mother shouted, because the lines of her Art jiggled and jarred
when Mokie and Bik played bumpboats—
  bump thump rumpboats
  up and down the wheelhouse,
  bump thump rumping
  from the steering drawers
  to the bouncy bunk,
  mump clump gumping
  from sleepdog Laddie
  to the potbelly hotter.
"Get out from underfoot!"
So Bik bumped Mokie out the door—splat!—into nanny Ruby's bucket as she was sploshing the deck.
"Twins!" shouted Ruby. "Get out from underfoot!"

You have just read the complete text of the first two pages of text in the book, each of which is accompanied by artwork, so in truth, you just covered four pages of the book. And in those four pages, you've learned most of the premise of the story and met most of the characters as well. The mother is kind of like Mrs. Casson from Hilary McKay's stories for older readers: an artist who likes some time to herself, and says things like "Ask me no questions and I'll tell you no lies" when she takes off alone on her botormike. (No, that was not a typo. It's how the word appears in the book.) The twins have a bunch of time to themselves, and they alternate between useful tasks like posing on one foot and carrying fish for Erik the Viking.

Each of the chapters tells a story involving Mokie and Bik and some of the adventures and interactions with the people and animals in their world. The later chapters build on some of the knowledge found in the earlier ones, but in truth, the chapters don't really rely on one another the same way that a novel does. Neither are they separate short stories with common characters. It's more episodic, the same way that Winnie-the-Pooh was, or The Wind in the Willows.

I like the whimsy of the stories in the chapters of this book, which is tempered by enough practicality to keep the book from skidding off into a cesspool of irretrievable cuteness. I adore Orr's use of language, which includes a playfulness that is not found nearly often enough in writing for this age group (in my opinion). Her use of mixed-up phrasing doesn't ruffle my grammatical feathers the way Barbara Park's does in the Junie B. Jones books, since she goes for substituted words ("fisk" instead of fish, which is actually explained at one point) or misplaced words ("parrots" for "pirates", and vice-versa, resulting in this bit of information about the twins' absent father: "'He's a parrot,' said Bik. 'He'll come home with a pirate on his shoulder.'")

I like that when one of the twins ends up in danger partway through the book, the twins solve their own problem, but afterwards, the adults step in to assure things won't go wrong again by making sure the twins learn how to swim. And I like that each of the chapters tells its own episode of a story.

The one thing that I didn't like was that many of the chapters had "slight" endings. Now, on the one hand, this is a chapter book, and not a series of short stories, so the chapters don't require "final endings". In fact, the endings should make you want to turn the page to read the next chapter. But many of the chapter conclusions consisted of single-paragraph (and sometimes single-sentence) summation of the "point" of the chapter, and others kind of just ended, and both events were something that bothered me, although I cannot put my finger on what it was I wanted them to do, aside from "be more satisfying." The end of the book as a whole, however, was extremely satisfying, and so my final conclusion is that I LOVE THIS BOOK. And that it makes me want to play with language in new and different ways as a poet and author.

HEARTILY recommended to young independent readers and as a read-aloud to emerging readers, since parents are sure to enjoy these characters as well. I can't wait for the next Mokie and Bik adventure. How do I know there'll be more? Well, there's a number "1" on the top of the spine. Plus, through the clever use of Henry Holt's online catalogue, I found Mokie and Bik Go to Sea is on the Spring 2008 list. Something to look forward to!