Back in November, I read
a post
over at Laurie Purdie Salas's blog in which she called for two poems for her (now) newly released title from
Compass Point Books
,
Write Your Own Poetry
by Laura Purdie Salas.
I submitted two poems, one for each of the categories that Laura needed, and was thrilled when my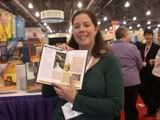 bathtub-related poem was chosen for inclusion. When I was at ALA last weekend, I got to see and hold a copy of the actual book over at the Compass Point booth. My poem is there on the right-hand page, near the very small rubber ducky.
Wanna know what the poem says? Since I'm sure at least one or two folks out there might, here it is:
In the Bathtub of Possibilities
by Kelly Fineman
I am:
    a landscaper
        clearing a lake amid bubble mountains
    an admiral
        directing battles between rubber ducks
        and drakes
    a mermaid
        my hair a floating halo
        or fishnet
    Now, Alice
        in a towel
          too big for the rabbit-hole drain