Today, a duo of winter-themed retellings from master storyteller, Bruce Coville. Bruce is well-known for his work in the field of fantasy, but for the past decade or so, he's also been writing retellings of Shakespeare's plays for children. Earlier titles include
The Tempest
,
A Midsummer Night's Dream
,
Macbeth
,
Romeo and Juliet
,
Hamlet
, and
Twelfth Night
.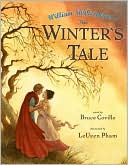 This year's offering is
William Shakespeare's The Winter's Tale
, which is illustrated by LeUyen Pham (and let me tell you, the illustrations are fabulous). For those of you unfamiliar with the play, it's from the "problem" category. Early on it was called a comedy, but since it involves lots of death and drama and dark-and-twisty psychological factors, it's been subsequently called a "romance." It's what some would call a "reconciliation" play, in that the characters undergo a series of terrible misunderstandings, with problems solved at the end. But it's far darker and twistier than, say,
Twelfth Night
or
A Midsummer Night's Dream
. In fact, some of its issues echo
Othello
, which is clearly in the "drama" camp.
The plot? A king (Leontes) becomes insanely jealous (and mistakenly so), thinking that his wife (Hermione) has cuckolded him with his best friend, a king from a nearby kingdom. (How much do I love the word "cuckold?" Oh so much.) The friend flees for his life, Hermione gives birth to a daughter while imprisoned, Leontes orders Antigonus to kill the baby (but he instead sails to Bohemia, the neighboring kingdom, names her Perdita, and then exits, "pursued by a bear", and is killed offstage). Perdita is rescued by a shephered. Leontes is told that Hermione has died.
Sixteen years later, Perdita the shepherdess meets and falls in love with Prince Florizel (in disguise, naturally). Florizel wants to marry her. Through some rather convenient plot twists, Florizel and Perdita and the shepherd are put on a boat back to Leontes's kingdom, and Florizel's father follows closely behind in another ship. At the end, Perdita is proved to be the princess, the kings are reconciled as friends, and it's revealed that Hermione hasn't been dead for the past 16 years. Happiness all round, oddly enough.
The Winter's Tale
is lesser-known than some of the other plays, but based on Bruce's masterful retelling, I'm not sure I understand why. Coville's use of language is lyrical, and pulls you through the story easily. Even with the disguises and duplicities involved in this sort of plot, the reader never gets lost. He's made it readily understandable and interesting, without adding to or diminishing the original story. It has, in fact, inspired me to pull out my copy of
The Complete Works of William Shakespeare
in order to read the original (which is best known for having one of the "best" stage directions Shakespeare ever wrote: "Exit, pursued by a bear.") And I believe I've already mentioned the fantabulous illustrations, yes?
Here's the first spread in the book. Most two-page spreads have at least one illustration, and some have more. You can see the first eight pages
at the Penguin website
.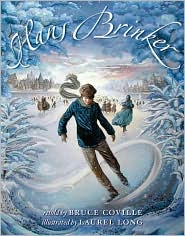 For something completely different, but also winter-themed, from Bruce Coville, you can buy his picture storybook retelling of
Hans Brinker
by Mary Mapes Dodge (who, oddly enough, does not get cover credit). Dodge wrote the original story
Hans Brinker, or The Silver Skates
back in 1865. Although I remember hearing the story as a child, it's decidedly fallen out of common circulation among today's youth. Bruce Coville, assisted by gloriously wintry illustrations from Laurel Long, is aiming to change that.
In an author's note inside the book, Coville explains why he's chosen to do a retelling of this story. It has to do with providing today's youth with positive role models, and Hans is "strong of heart and true of purpose." Yet in this retelling, Hans doesn't seem to good to be true, nor does the message overpower the essentially sweet story of a family struggling to get by while dealing with horrible poverty that is the result of their father's illness. The illustrations are luminous, and really pair well with the story and focus attention on the essence of each scene.
For those who aren't familiar with the story, or need a refresher, it tells of the Brinker family. The father is disabled; the mother is desperate because before the father lost his mind (essentially), he hid the family's money. Hans and his sister, Gretchen, both like to skate and are good at it, but they have crappy skates. A contest will be held. The prize? A pair of silver skates: one in the boys' category, and one in the girls'. Gretchen wins her matches (and the skates). Hans doesn't win (a friend of his is faster). But Hans does manage to find a doctor to help his father recover his memory, and he also manages to find the hidden money.
This book's themes should resonate well in today's society. The "have-nots" feel lesser than the "haves," and Hans is teased (bullied, even) by one of the neighborhood boys for having shabby skates, no money, etc. However, Hans's perseverance and his smarts are enough to help him move beyond what some people's expectations of him might be, and he ends the book well (and so does his family). In today's society of layoffs and disabilities, the family's plight remains recognizable, and it's overall message — that hanging in there and doing your best and using your smarts can make things better — is a solid one for kids to hang their hats on. Especially kids who are dealing with negative economic issues at home. The message about how to deal with bullies is timely as well. And the lovely illustrations throughout coupled with Coville's assured authorial voice make this a terrific book to share on a cold winter's day/evening.