Today, I'm talking about
Baseball Haiku: The Best Haiku Ever Written About the Game
edited by Cor van den Heuvel and Nanae Tamura.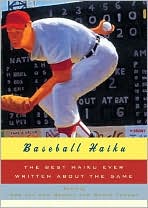 This is a book of poetry for adults, but there's no reason that baseball-lovers of all ages wouldn't enjoy it (apart from a lack of pictures for the very young, that is). I decided to review this book because the season is drawing to a close, and I've been enjoying dips into this book since it came out in April of this year. And Doc, this one's for you. Okay, and for any other baseball fans out there. For the record, I found this shelved with the Sports books at the local Borders, and not with the Poetry books. I'm not sure if that will hold true from store to store.
The book contains a complete history of baseball haiku in both Japan and America, followed by sections of baseball haiku. Since we learn that the Japanese wrote baseball haiku first, I'm starting with them. Within the sections, the poets are listed chronologically by birth year, and are each given a full-page bio including both their poetic and baseball experiences. For the Japanese poems, the poems are presented in English, Japanese and transliterated Japanese (which allows us wacky Westerners who don't actually read or speak Japanese to try to pronounce the poems in their native tongue). I have to say, I thought that presenting the Japanese poems both (all three?) ways was pretty awesome.
The very first baseball haikus were written in 1890 by one of the four great haiku masters,
Shiki.
He'd learned baseball while at school, and was already writing haiku on other topics. Shiki wrote four baseball haiku in 1890, and wrote still more in later years. Here's one from a later date:
dandelions
the baseball rolled
through them
In the original Japanese, this followed the 5-7-5 syllable count, but the translation does not.
Same goes for this one by Mizuhara Shuoshi, from a set of poems called
"Scenes at Jingu Baseball Stadium"
:
the player takes
his position in the outfield
a cricket's cry
Here's a bit of shocking news for you – the first known American baseball haiku was written by noted beat poet Jack Kerouac. The editors of the book explaint that one of Kerouac's earliest baseball haikus was not printed, but was recited by Kerouac on an album called
Blues and Haikus
, with intermittent jazz riffs by Zoot Sims and Al Cohn:
Empty baseball field
— A robin,
Hops along the bench
As it turns out, Cor van den Heuvel not only edited the collection, but also has written quite a number of baseball haiku. Although his name is Dutch, Cor is a New England poet who originally hails from Maine. Here's one that's seasonally appropriate, but does not follow the 5-7-5 format:
autumn leaves
scatter across the infield
the pitcher blows on his fingers.
Baseball poems aren't just the province of men. There are three American female poets included as well (but no Japanese women). Some of the sauciest entries in the book are by Brenda Gannam. I confess to liking all of hers, many of which adhere to the short-long-short format, but eschew the strictness of 5-7-5. Here's one of Ms. Gannam's poems:
fastball
the pitcher slyly adjusts
his equipment
As it's almost the end of the season – and the start of the playoffs draws nigh – here's one last selection from the book, a haiku by Jim Kacian:
October revival
all hands lift
to the foul ball
After the selected haiku comes
"Extra Innings"
, which provides the history of "American and Japanese Baseball," adds a "Baseball & Haiku Book List," and includes an "Index of Poets" as well.
Well, don't just sit there on the bench – PLAY BALL!