On Saturday, the family and I went to
Musikfest
in Bethlehem, PA. While the kids ran wild and hubby looked for snacks, I took a side trip into the
Moravian Book Shop
: "the oldest book store in the world". (While I am not 100% positive that they can prove that claim, I will note that the store has been in business since 1745. So.) I went looking for a special little something; a book that isn't officially out until September, but which started creeping into independent book stores as early as last Tuesday. And there it was: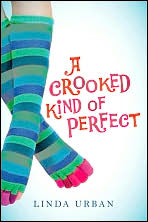 I got home after 11 p.m. last night, and then did the only logical thing. I stayed up far too late to read
A Crooked Kind of Perfect
by
Linda Urban
(
). I should note two things before I go any further, so that we're all playing on the same gameboard here: 1) Linda is a good friend of mine and 2) I read this book once upon a time before it was a book, way back during the revision process, when it was still a manuscript. So I was predisposed to want to like it. But I don't.

I LOVE IT!! (And for anyone who's read the book -- those exclamation points are entirely trustworthy. Really.)

Faithful readers will remember that this book is one that I most looked forward to in 2007. And those of you who wonder if I'm sincere in saying this book is good, even though it's by a friend, should take a gander at this post predicting it to be a Newbery contender next year. Yeah, I said it. And so have a number of other folks, by the way, including highly ranked agents and editors. Good thing they left an open space on the top of the cover. But I digress.

A Crooked Kind of Perfect tells the story of Zoe Elias, an almost-eleven-year old girl who desperately wants to play the piano. At Carnegie Hall. But really, she'd settle for actually playing the piano at first. Zoe spends most of her after-school time at home with her dad, a guy with anxiety issues that pretty much keep him from being around other people, except for Hugh, the UPS guy. Mr. Elias spends his time furthering his education with at-home study courses. Mrs. Elias is the controller for the state of Michigan, and spends most of her time (including weekends) at work.

When Zoe's dad brings home a boompa-chucka Perfectone D60 electric organ! with "two (2!) keyboards, ergonomically stacked to put high and low octaves in easy reach!" and "luxuriously realistic walnut veneer!", Zoe isn't exactly thrilled. And when Wheeler Diggs follows Zoe home one day and befriends her father, Zoe really doesn't know what to think. But she kinda likes playing music -- and she kinda likes having Wheeler around, too. And when she's invited to play at the annual Perform-O-Rama, Zoe has to make a choice: prodigy or practice?

Why I love this book:
1. It rings true. Not just because I was a young girl who desperately wanted to play the piano, and then did, although I'm sure that didn't hurt. Zoe's need for acceptance and friendship is really what drives the book, and that rings true.

2. It's funny. And it has heart. And for you writer-types out there, who hear editors rave about wanting to see books with heart (without naming titles, usually), this is the exact book they mean. This and 's RULES and Kate Di Camillo's Tales of Desperaux, to name a few.

3. I have an inner 10-year old girl's crush on Wheeler Diggs, who never takes off his denim jacket even if it's really hot out, or really cold. In fact, my inner 10-year old girl's crush on Wheeler is pretty much as strong as my inner 16-year old girl's crush on Tom Tanner from Tips on Having a Gay (ex)Boyfriend, which is saying something. Because Tom Tanner hits levels on the crush-o-meter that approach "Colin Firth as Mr. Darcy levels." I'm just saying.

4. The quality of the writing is superior. Really, truly excellent (or as Wheeler might say "top drawer"). So excellent that it has forced me to have positive feelings about the song "Forever in Blue Jeans," and to get misty eyed when Neil comes on the radio. Now that's some powerful writing.

So -- even though I read this in a prior incarnation as a manuscript (and before final revisions, I should add, so there was stuff here (and stuff not here) that was new to me), and even though Linda is a friend, I'd have to say that I'd be recommending this book even if those things were not true. Because this book is that good. A Crooked Kind of Perfect is a perfect kind of book.