Dudes. When I told you I bought a few collections the other day, I SO did not lie. Today I'm going to chatter about
A Family of Poems: My Favorite Poetry for Children
, edited by Caroline Kennedy with illustrations by Jon J. Muth. Yes, he of
Zen Shorts
, a 2006 Caldecott honor book, and
The Three Questions
. And you know what that means: page after page of simply gorgeous paintings. The front of the book has a photo of a young Caroline Kennedy reading to a teddy bear, so it doesn't prepare you for what's inside. Here, have a look for yourself: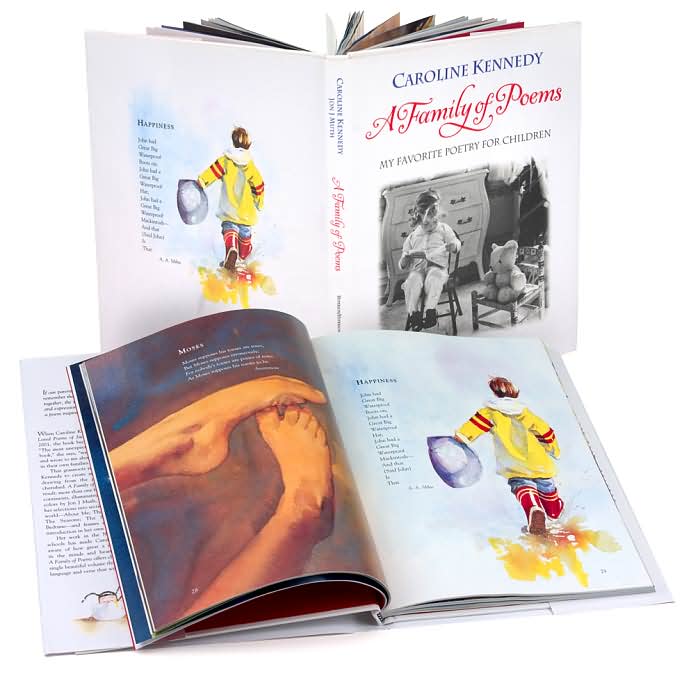 Want more of an idea what the art looks like? You can search inside the book over at the
Amazon website
to see a few more of the pages, and to get a gander at the Index of Poems.
Caroline Kennedy shows herself to be a thoughtful, organized kind of anthologist. She's not an anthologist in the way that Paul Janeczko is -- it's his belief that an anthologist need to "break new ground" with each anthology. He therefore tries to find new voices and new forms to include in his anthologies, and he's careful to try to find a new slant on things. In some ways, Caroline Kennedy has done the exact opposite of that, and yet she's put together a lovely anthology full of the poems that she collected through the years as part of a family tradition of gift-giving:
In our family, we were encouraged to write or choose a favorite poem for each holiday or birthday as a gift for my mother and grandparents instead of buying a card or present. My brother and I would copy over and illustrate our choices, and my mother pasted them in a special scrapbook. . . .

Many familiar favorites from our poetry scrapbook are in this collection, including "Sea Fever" by John Masefield, "Who Has Seen the Wind?" by Christina Rossetti, and the Twenty-third Psalm. But we also chose less serious or well-known poems. One of my brother's particular favorites was "Careless Willie," about a boy who nails his older sister to the door. . . .
(Don't you all wish you'd thought to have your kids do that? I know I do. Maybe it's not too late, even if my younger daughter's nearly a teen.)
Kennedy organized the book into seven sections, each of which has an introduction written by her:
ABOUT ME
, which includes William Carlos Williams's
poem about plums
, Nikki Giovanni's "The Reason I Like Chocolate," "The Lake Isle of Innisfree" by W.B. Yeats, Frost's "The Road Not Taken," and the Twenty-Third Psalm, among others.
THAT'S SO SILLY!
, which starts with a limerick by Edward Lear, "There Was an Old Man of West Dumpet," includes the lyrics "Moses supposes his toeses are roses," which I always thought was just part of the lyrics to a song from Singin' in the Rain, but which is credited to one of the most prolific poets of all time, Anonymous, the aforementioned "Careless Willie," and some offerings from known comics like Jack Prelutsky and Ogden Nash. My favorite poem in this section may be
"(From) Falling in Love is Like Owning a Dog: An Epithalamion"
by Taylor Mali, which begins as follows:
First of all, it's a big responsibility,
especially in a city like New York.
So think long and hard before deciding on love.
On the other hand, love gives you a sense of security:
when you're walking down the street late at night
and you have a leash on love
ain't no one going to mess with you.
Perhaps it's my favorite because it was new to me, and some of the others were not. Or perhaps the poem is just that terrific.
ANIMALS
contains really over-anthologized poems like "The Tyger" by William Blake and "Hurt No Living Thing" by Christina Rossetti, and rarely anthologized ones like "Peacockfeather" by Rainer Marie Rilke. It has haiku from Basho and "Mister Mistoffelees" from T.S. Eliot and a lovely offering from Carl Sandburg called
"Buffalo Dusk."
The buffaloes are gone.
And those who saw the buffaloes are gone.
Those who saw the buffaloes by thousands and how they
&emsp pawed the prairie sod into dust with their hoofs, their
&emsp great heads down pawing on in a great pageant of dusk,
Those who saw the buffaloes are gone.
And the buffaloes are gone.
THE SEASONS
runs from spring to fall, with Ecclesiastes leading off ("To every thing there is a season").
"April Rain Song"
begins the spring, which includes poems from Wordsworth and Shakespeare and Frost. Summer brings more Shakespeare ("Shall I compare thee to a summer's day?"), and then we move toward more temperate weather with Rossetti's "Who Has Seen the Wind?" It's in autumn or earlywinter that we find part of "Ode to a Pair of Socks" by Pablo Neruda, a most interesting choice indeed, yet perfect for a children's anthology after all. And winter brings Frost's "Stopping By Woods on a Snowy Evening," plus Clement C. Moore's "A Visit from Saint Nicholas", an e.e. cummings poem, "little tree", and an Iroquois Prayer.
THE SEASHORE
: All those summers that Kennedy spent on Cape Cod at the family compound seem to have earned the seashore its own section, but I think it was a good choice. It includes Ogden Nash's "The Octopus," which I liked so well from Janeczko's recent anthology,
Hey You!
. Also there? "The Mock Turtle's Song" by Lewis Carroll (and
you know
I love
my Lewis Carroll
). One of my grandmother's favorite poems is in this section as well -- she'd had to memorize it as a child, and could still recite it when she was in her 80's. It's John Masefield's
"Sea Fever"
, which begins with a contested line -- Gramma recited it as "I must down", and there are early signed editions of his work printed that way. So I stand by Gramma's version. But it's frequently anthologized (and is here):
I must go down to the seas again, to the lonely sea and the sky,
And all I ask is a tall ship and a star to steer her by,
And the wheel's kick and the wind's song and the white sail's shaking
And a grey mist on the sea's face and a grey dawn breaking.
ADVENTURE
includes some excellent poems about lamish sorts of adventures, like R.L. Stevenson's "The Swing" and another poem by Anonymous called "This is the Key" and "The Red Wheelbarrow" by W.C. Williams, but it also includes poems of true adventure, like "The Owl and the Pussycat" by
Edward Lear
and "Goblin Feet" by J.R.R. Tolkien. It includes a recent Poetry Friday poem,
"The Song of the Wandering Aengus"
, by W.B. Yeats, and one of my favorites from Naomi Shihad Nye, "The Rider," which begins "A boy told me/if he roller-skated fast enough,/his loneliness couldn't catch up to him."
BEDTIME
, which is almost the shortest section in the book (that honor goes to
The Seashore
), and I'm pretty sure Caroline Kennedy's feelings about bedtime as a child explain why. Here's a bit of what she wrote:
When I was young, I never understood why adults thought it was so important for children to go to bed. I suspected that it was mostly because they wanted to get some sleep themselves. And when I grew up, I discovered I was right!
Her choices include a portion from "The Bed Book" by Sylvia Plath, which manages to be a noisy sort of bedtime poem. Here's a bit from the middle of it:
A Bed for Fishing
A Bed for Cats,
A Bed for a Troupe of Acrobats.
This one comes highly recommended by a lot of critics, and I can certainly see why. It's for an older crowd than
yesterday's anthology
,
Here's A Little Poem
, and my guess is that most parents and grandparents will love it as much (or perhaps more) than its child readers.