During my poetry-buying frenzy a few weeks back, I bought myself a copy of the latest poetry collection from Douglas Florian, called
Comets, Stars, the Moon and Mars: Space Poems and Paintings
.
I am an occasional fan of Mr. Florian's books. I happen to love-love-love
Autumnblings
, which was full of word play and fall imagery. I happen to have had a rather lukewarm reaction to
Handsprings
, last year's book -- the poems didn't feel fresh, and I didn't care for the art that accompanied it. But let me say this -- Mr. Florian is back in my good graces, and then some, for his lovely new book about space. Most of the book is about the solar system, and I can tell you from first-hand experience dealing with school children over the past three days, the solar system is a Very Popular Subject.
The poem I read most often from the book was "Pluto," Mr. Florian's last-minute change to the book. Heaven knows what the original Pluto poem said, but just as this book was going to print, Pluto's license was revoked and it was downgraded from "planet" to "dwarf planet" in a rather controversial vote (occurring after a number of delegates to the conference had left).
Mr. Florian's genius in explaining this situation is clear:
Pluto
Pluto was a planet.
But now it doesn't pass.
Pluto was a planet.
They say it's lacking mass.
Pluto was a planet.
Pluto was admired.
Pluto was a planet.
Till one day it got fired.
That about sums it up, don'tcha think? Other poems work equally well -- such as the one about Mercury, depicted as having a perimeter of feet (clever for the association with the messenger god, Mercury, and for its correlation to the description of the planet as racing around the sun).
The facts appear to me to be correct, the rhymes work well, and the artwork makes this one really shine. Moreso than the art, even, is the book design -- many of the pages have "peekaboo" cutouts that lead to the next page, and they totally work in this book to show the interconnectedness and interrelatedness of space.
Here's a look at the pages featuring "The Moon":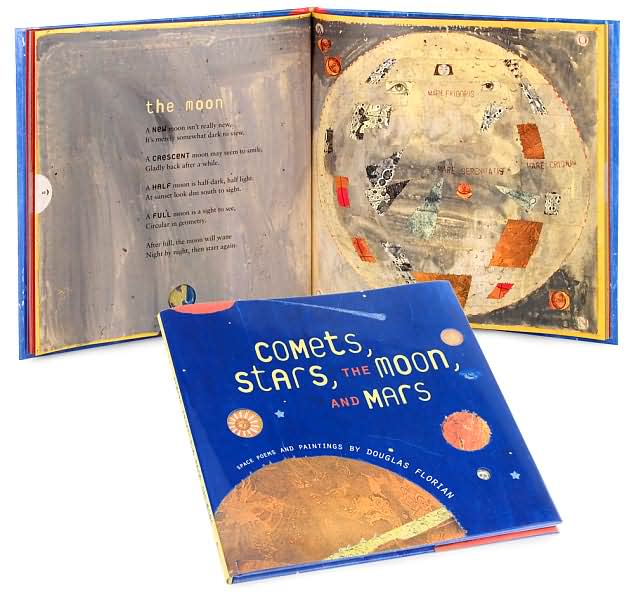 The poem explains the phases of the moon, from new through crescent to half, then to full (no mention of gibbous, I note). Here's an excerpt about the full moon, shown above:
A FULL moon is a sight to see
Circular in perimetry

After full, the moon will wane
Night by night, then start again.
If you've got kids around who are interested in space (and from what I can tell, all elementary school kids are vastly interested in space), you'll be reading from this one in the same manner as the moon is described in that last line: "night by night, then start again."