I Capture the Castle
Last night, I finished reading
I Capture the Castle
, a novel by Dodie Smith, actress, playwright and author of numerous other books including the children's classic,
One Hundred and One Dalmatians
.
There are lots of covers for this particular book, but the one I own looks like this: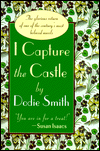 The story is written in first-person by Cassandra Mortmain, a member of a rather eccentric family living in a ramshackle house attached to the ruins of a Norman castle in rural England, in the 1930s. They have no electricity or refrigeration (not even an icebox, as best I can tell). The father is an apparently washed-up author whose one book was a hit, but who's written nothing since. The stepmother, Topaz, is much younger than Mortmain, and very desperate to be his muse. She likes being out of doors in the nude, among other things. The elder sister is Rose, who seems to believe that life should be very much like a Brontë or Austen novel, and typically employs the same manners as described in those novels and in Gothic romances. There's a younger brother, Thomas, who seems quite normal (surprisingly), and a ward (of sorts) named Stephen, who does all the work around the place, and then goes out to be the only wage-earner.
Cassandra keeps a journal to teach herself to write, and that is what the text consists of. And at the beginning, I was a bit distracted and bored and not ready to commit to it. Like, it took me a few bouts of reading to get to chapter 2. But then I did, and it was okay for a chapter, and then I was hooked. I loved the voice and the characters and wanted to find out all about it. And the way it was written, often I knew before the MC what exactly was going on. And that was good with me.
Until.
Until I got about two chapters from the end. And then, I got bored again. And when I hit the very end, after Topaz returns from London, I turned out not to care about the MC all that much.
The whole point of the story is following this girl for about nine months as she loses the last vestiges of childhood. And once she did, I no longer cared for her. Or about her. And if I come right down to it, I was a wee bit sad for the things she'd lost or let go along the way.
Weird, huh?